The Sandra Schmirler Foundation encourages the athletic and academic careers of promising Canadian curlers by offering annual scholarships. Beginning in 2013, the Sandra Schmirler Foundation has awarded $5,000 scholarships to six junior curlers annually. The scholarship funds education and curling expenses equally.
Each Spirit of Sandra Scholar organizes a fundraising event to ensure that Sandra's Legacy Lives On. Every year, the scholars are provided with the opportunity to select one hospital foundation to receive a grant to purchase life-saving equipment for their Neonatal Intensive Care Unit (NICU).
Application Deadline: May 29, 2023 midnight ET
Successful applicants will be notified no later than June 30, 2023.
The applicant must:
• be a Canadian citizen.
• be studying at the post-secondary level in the 2023-2024 academic year and be enrolled in 6 courses during the academic year
• be born July 1, 2003 or later.
• have a minimum academic average of 75% or the equivalent GPA.
• be committed to curling at the U20 level or younger during the 2023-2024 curling season.
• be committed to holding a fundraising event for the Sandra Schmirler Foundation by May 31, 2024.
How to apply for the Spirit of Sandra Scholarship
1. Complete the application form and upload the required files.
2. Create a multimedia presentation, upload it to Youtube (unlisted) and upload the link.
To apply, please click here.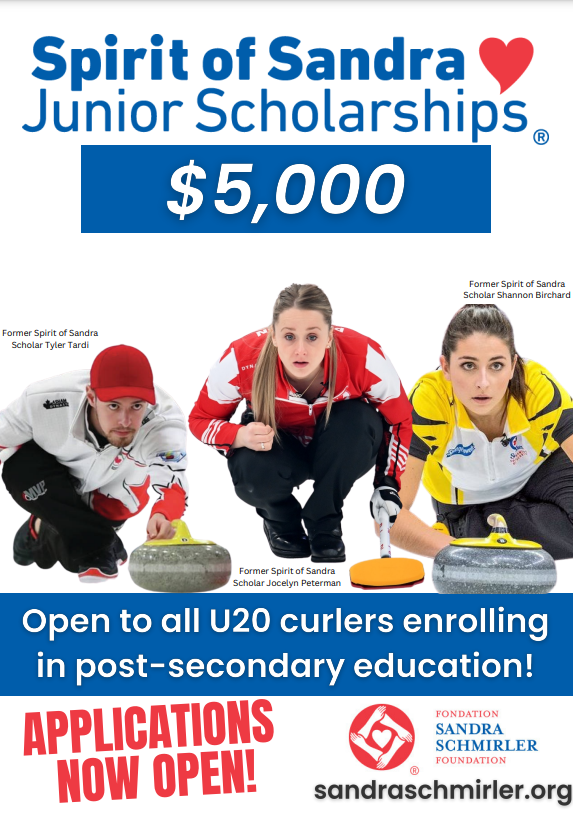 Previous Quebec Scholar