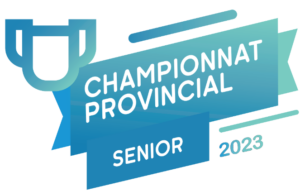 Championship Format
The twelve (12) participating teams will be divided into two pools of six (6). An intra-section round-robin is played and the two (2) highest ranked teams from each section will advance to the page playoff elimination round.
Timeline
Registration deadline: December 1, 2022
Regional deadline: January 15, 2023
Provincial championship: February 4-8, 2023
Canadian championship: November 27- December 2, 2023
Qualification
Eligibility for 2022-23 season: Participants must be fifty (50) years of age or older on June 30th in the year of the Canadian Senior Championships. Therefore, players wanting to compete in the 2023 Seniors (March) as example, must be born on or before June 30th, 1973.
Twelve (12) teams can participate in the senior women's provincial curling championship. The winning team will represent Quebec at the Canadian championship. Teams are qualified as follows:
Registration Fees
$240 per team
+ $25 per player – Curling Canada competitor fees
Registration period will begin on September 1, 2022
Register now!
2022 Champions