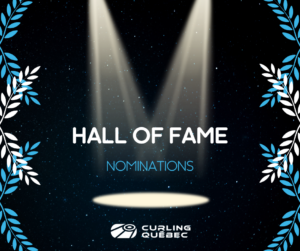 Hall of fame
The goal of Curling Quebec's Hall of Fame is to honour the achievements of individuals who have significantly and positively contributed towards the advancement of the sport of curling in the province, with respect to the interests and corporate image of Curling Quebec.
Curling Quebec's Selection Committee is offering you the opportunity to nominate a candidate who, in their own way, has significantly impacted the history of curling in Quebec. The selection committee will accept nominations annually, but reserves the right not to induct any new members to the Hall of Fame if the number of nominees is insignificant or if the nominees do not meet all of the selection criteria.
Players and Teams who have distinguished themselves by their excellence and performances at high levels of competition are eligible to be inducted into the Hall of Fame.
Builders (i.e. Coaches, Officials, Administrators, etc.) who have greatly contributed towards the development of curling in the province are also eligible for consideration. 
Here are the 4 categories
Player
Builder
Player and Builder
Honorary
For details about the different categories, please visit our website at https://curling-quebec.qc.ca/about-us/awards/quebecs-curling-hall-of-fame/?lang=en
You can submit an unlimited number of applications by filling out the following form:
https://curlingcanada.formstack.com/forms/temple_de_la_renommee_hall_of_fame
Curling Québec will accept application until October 22nd, 2023.
The date, time and location of the next Hall of Fame Gala will determined after the application deadline.
Thank you for recognizing the deserving people in our curling community!