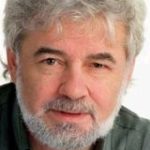 In memory of
François Béliveau
1942-2003
On September 4th, 2003, Curling Quebec and its family of curlers lost a precious collaborator and friend, Mr. François Béliveau.  Journalist for the « La Presse » newspaper, Mr. Béliveau died of an agressive form of cancer at the age of 61.
Mr. Béliveau was a unique journalist.  Although more discrete than his peers, he was also more rebellious.  As a man who believed in many causes, he remained loyal to amateur sport, which he cherished and endlessly promoted.  During his time at the « La Presse » newspaper, Mr. Béliveau wrote an impressive number of articles about curling. His last article about the sport « Do You Want to Play Curling? was published only a few months before his death in March 2003.  In this article, Mr. Béliveau highlighted his love for amateur sport and wrote a full page promoting the sport of curling, an article written without anyone asking him to.  This was his last gift to the sport which, more often than none, is ignored by the Quebec Press.
Rebellious yet warm, he was the heart and soul of the Press Sporting Club of Quebec and one of most active organizers of the World Journalist Games, where one of his favorite event was, you guessed it, curling!
We wish to thank Mr. Béliveau's family for graciously allowing us to associate François Béliveau's name to our Journalism Award.  His name will now be synonymous with journalistic excellence within our sport.
The award given annually to a journalist who contributed to the promotion of curling will now be known as François-Béliveau Journalism Award.  By doing so, Curling Quebec wishes to recognize and highlight, in a permanent fashion, the extraordinary contribution of Mr. Béliveau's passion for the sport.
Mr. Béliveau, in the name of all your friends and curling family in Quebec, this award that now bears your name serves to immortalize your contribution to the sport of curling.  It is also an opportunity for us to say a final THANK YOU and farewell!
We also wish to thank Mr. Beliveau's family, his two daughters, Marie-Josée and Caroline, his brother Jules, and his wife Diane, for their collaboration and their acceptance of Mr. Béliveau's honorific award.
Click here for the form to submit an application
Past Recipients
2018 – Sylvain Turcotte (Sept-Îles)
2017 – Denis Bourbonnais (Journal St-François de Valleyfield)
2016 – Dominic Chamberland (Écho Abitibien)
2015 – Jessy Laflamme (TC Média)
2014 – André Bernard (SRC Television)
2013 – Martin Comtois (Le Droit)
2012 – Not awarded
2011 – Johanne St-Pierre (Le Quotidien)
2010 – Normand Simard (Sportsaglac)
2009 – Yves Leclerc (Journal de Québec)
2008 – Pierre Vézina (Radio-Énergie Québec)
2007 – Pierre Fellice (Presse canadienne)
2006 – Paul-Armand Girard (Le Quotidien)
2005 – Serge L'Heureux (Le Nouvelliste)
2004 – Michel Lacroix (RDS)
2003 – Marie Allard (La Presse)