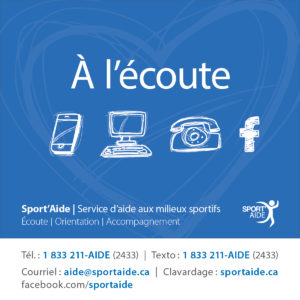 This service, which is available 24/7, allows for anyone involved in sports (athletes, coaches, directors, administrators, officials, parents and volunteers) to confide in someone or to seek information if they were a victim or a witness to any kind of abuse in their sports environment. The free service allows users to reach the team of specialists by telephone or via virtual avenues (chat, text messaging, e-mail or Facebook).
PRESS RELEASE (in French only): 
Service d'écoute pour les athlètes québécois – C'EST PARTI pour le 833-2 «11-AIDE» !
(Québec, le lundi 30 avril 2018) – C'est ce lundi 30 avril, en présence de M. Sébastien Proulx, ministre de l'Éducation, du Loisir et du Sport et ministre responsable de la région de la Capitale-Nationale, d'une quinzaine de jeunes athlètes ainsi que de son équipe d'intervenants, que Sport'Aide lance officiellement son service d'écoute destiné à la communauté sportive québécoise.
Disponible 24/7, ce service permettra aux parties prenantes des milieux sportifs (athlètes, entraîneurs, dirigeants et administrateurs, officiels, parents et bénévoles) de se confier ou de prendre de l'information s'ils sont victimes ou témoins d'abus de toutes sortes dans leur environnement sportif.  Offert gratuitement, le service permettra à ses utilisateurs de rejoindre notre équipe via le téléphone ou via les avenues virtuelles (clavardage, messages textes, courriels ou Facebook).
Pour Sport'Aide, qui déploie des initiatives favorisant des environnements sportifs exempts de violence, le lancement de cette ligne marque un tournant significatif puisqu'il vient répondre à une attente.  « Dès le moment où Sport'Aide a signalé son intention de supporter la communauté sportive québécoise, ce besoin a clairement été indiqué comme une priorité, tant par notre organisation que par les diverses parties prenantes engagées dans les milieux sportifs », relate monsieur Denis Servais, président de Sport'Aide.
Défi relevé !
En lançant ce service unique, Sport'Aide (créée en 2014) favorise la protection de la sécurité et de l'intégrité de nos jeunes sportifs en leur fournissant un lieu où se confier en toute quiétude.  « Inutile de dire que nous sommes particulièrement fiers aujourd'hui d'avoir relevé le défi que nous a confié le gouvernement du Québec, car à partir de maintenant nos jeunes athlètes pourront compter sur une oreille attentive s'ils sont victimes ou témoins d'abus de toutes sortes », ajoute monsieur Servais.
En plus de collaborer avec les organisations sportives qu'elle outille et accompagne, Sport'Aide pose aussi des actions afin d'éduquer et sensibiliser le grand public à cette problématique reconnue par la communauté scientifique, les organisations sportives, les instances gouvernementales et de protection de l'enfance. « Les conséquences sur le bien-être, le développement et la sécurité des jeunes sont trop importantes pour tourner la tête.  Il importe d'agir, car c'est notre responsabilité à tous », termine monsieur Servais.
Rappelons enfin que le champ d'action de Sport'Aide s'étend à tout le système sportif, du milieu scolaire aux milieux municipal et communautaire, du niveau initiation au niveau excellence, et ce, dans toutes les disciplines sportives.
– 30 –